Avoid Bathroom and Kitchen Faucet Repair with these Practical Tips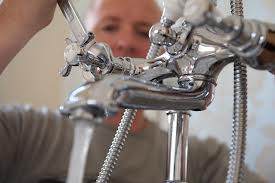 Household faucets are plumbing fixtures that are the most susceptible to failure. Daily usage can lead to wear and tear faster than usual, which can cause leaky taps. Bathroom and kitchen faucet repair is relatively inexpensive, but should be attended to as soon as possible. When taps leak, you waste water and you waste your money. Of course, the best way to save money is to avoid the need for repairs all together. Here are some practical tips for keeping your household faucets in their best shape for longer.
Opt for Professional Installation
One of the easiest ways to update your bathroom or kitchen is to change the sink faucet. Although this is a job that many homeowners feel they can tackle, it's not always as easy as that YouTube video makes it look. Faucets that aren't installed correctly can leak at the base causing inconvenience and poor function. The next time you decide to install a new faucet consider hiring your local plumber.
Consider Conditioning Your Water
Homes with hard water may experience many types of plumbing problems. When water is full of sediment, it can lead to premature deterioration of pipes, drains, and faucets. The minerals get caught in the faucet's smallest parts and can loosen connections leading to dripping. It can also destroy seals. At Whitney Plumbing Pros, we recommend that homeowners have their water tested to determine its hardness factor and, when necessary, consider installing a water softener to protect plumbing systems.
Fix a Leaky Faucet Right Away
Don't wait to take care of a leaky faucet. Call the best local plumbers in Whitney! We are your neighborhood 24 hour plumber that always guarantees great service, exceptional pricing, and quality workmanship. Kitchen faucets, bathroom faucets, wet bar plumbing, and outdoor faucets, we do it all. Give us a call today to schedule an appointment with one of our highly-trained licensed plumbers.